Corrigan Logistics makes managing your inventory simple with our easily customizable system.  Our asset-controlled system is based upon computerized inventory, offering a "triple-check" process with the goal of providing 100% accuracy and control to our customers.
Corrigan Logistics has designed a web portal application to allow our customers to request services and view their asset inventory online.  This portal will allow your organization to view their product inventory in real time, request deliveries to locations throughout the United States, and notify Corrigan Logistics of new shipments of product scheduled to arrive at our facility.
Our web portal also has a wide range of reporting capabilities. This allows your organization to analyze various summaries of current and historical inventory and deliveries.  If a specific report required by your organization is not currently supported by our web portal, we will collaborate with you to completely customize and create what's needed. Furthermore, we will customize our standard website interface to be specifically tailored to your organization's needs. We pride ourselves on our collaborative, easy to use inventory platform. It's just one more way Corrigan Logistics offers unparalleled service!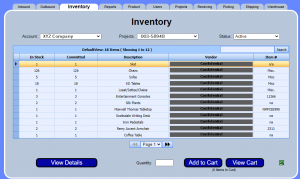 The "Triple-Check" Technique
Corrigan's "triple-check" process begins the minute a shipment arrives at our warehouse.  Upon arrival, each shipment will be inspected to ensure that it is complete and damage-free.  Each individual item will be cross-checked against your organization's advance shipping notice sent through the portal, and the driver's bill of lading.  After the shipment has been accepted, each item will be tagged with a barcode label and scanned to identify the specific SKU that this item belongs to.  Finally, the item will be placed into secure storage and the item barcode and racking location will be scanned once again to verify correct placement of the item.
Corrigan's record management division, Corrigan Record Storage, currently manages over 650,000 cartons through this "triple-check" process and has NEVER lost or been unable to retrieve a single carton. They were more than happy to share their secrets to success with Corrigan Logistics!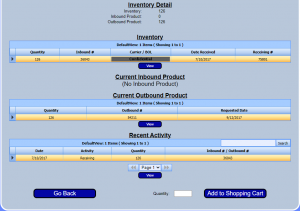 Corrigan Logistics can warehouse your organization's product at one of our 12 full-service warehouses in Michigan and the Midwest.  Each of these facilities is designed for high-value product and record storage, so they are constructed with the highest level of safety and security in mind. In addition to Corrigan owned warehouses, we're a proud partner of the Unigroup Logistics warehouse network. This lets us expand our footprint, allowing your goods to be stored in any of these network warehouses. All members of the Unigroup network are held to the same strict regulations, allowing you to feel confident in the safe handling of your inventory nationwide.
Our typical warehouse is located within a fenced and gated facility. Access is restricted to specific employees who have the level of authorization required to enter the building.  The warehouse itself is protected by a security system, which is monitored 24 hours a day against intrusion by unauthorized personnel.  Our customers' property in the facility is protected by a fire monitoring and suppression system, and the buildings are designed with secure fire walls to provide additional protection to the product storage area.
Within the warehouse, your product will be stored on racking, organized by SKU, and tracked through our computerized warehouse management system.
Your asset's security is our top priority, and we'll do whatever we can to ensure top safety and security protocols are in place. If your organization requires additional levels of security, we will work with you to create a solution.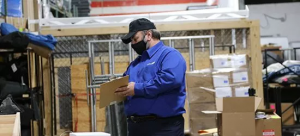 The delivery process will begin with a request from your organization placed through our web portal.  Only users authorized in advance by your organization will have the ability to put in a request.  The user will enter a pre-defined set of information such as quantity, item number, delivery address, and delivery date.
Once the delivery request is received, Corrigan Logistics will be notified through our warehouse management computer system.  Our delivery procedure usually begins one day before the requested delivery date.  A delivery ticket will be created with the required information and the computerized warehouse management system will direct the warehouse staff to the items in storage.
Corrigan Logistics also utilizes our "triple-check" process for deliveries.  Once an item being delivered is located, the item and location will be scanned to verify that the correct item is being pulled.  The product will then be placed at the shipping dock and scanned a second time to show that it is ready for delivery.  Finally, the item will be scanned for a third time when it is loaded on the delivery van to verify that all items for the scheduled delivery are accounted for.
Corrigan Logistics can provide delivery services to nearly any location world-wide.  Depending on your specific needs, we have the ability to utilize our own local delivery trucks, USPS, UPS, freight transportation, United Van Lines special products transportation, and even containerized international shipping over air and/or sea. No matter where your products need to go next, we have the reach to get them there!
Why Choose Corrigan Logistics to Manage Your Inventory?

Corrigan Logistics has been a leader in creative, comprehensive logistics solutions for over 20 years. Part of the Corrigan family of companies, Corrigan Logistics shares the values of honesty and integrity that has served the Corrigan family for over 90 years.
We're dedicated to using our custom technology and inventory process to help you manage the assets related to your projects. We also understand that no two customers or projects are the same. That's why our dedicated support team will work with you to customize your reports based on the needs of your project. We hope to have the opportunity to serve your business, contact us to see how our asset-controlled system can help you!