Corrigan Logistics and Mercedes Benz share a common trait: leaders in their craft. When Czarnowski Display Services needed to find a solution for Mercedes to roll out their new line of electric vehicles, Corrigan Logistics was the obvious choice.
Spanning 20 weeks, 34 cities and 2 regional tours, Corrigan Logistics is hauling the Mercedes Benz trailer designed to showcase their brand-new line of electric vehicles.  Exclusive, invite only events are held at each location on the tour. Current Mercedes owners are invited to see the new vehicles, explore options and pre-order a vehicle from the pop-up sales shop within the trailer.
"These tours have really given us a chance to see how Mercedes Benz is adding luxury to the electric vehicle market," Said Les Biegel, Vice President of Corrigan Logistics. "When Czarnowski Display Services designed a mobile sales unit that needed to be driven on a cross-country tour, we had no doubt we could handle it. If there's one thing our Logistics team is wonderful at, it's doing whatever we can to help our customer."
All In a Day's Work
On top of driving the trailer to various cities on the tour, the driver has a list of responsibilities related to the project at each location. The driver is available to the installation crew during the set-up and breakdown process, acting as second in command for the installation project. Once the trailer is installed and secured, the driver sets the indoor flooring in place and assists with assembling various indoor and outdoor components of the trailer. Then, the driver secures the flaps on top of the trailer, as well as placing signage inside and around the trailer before each event.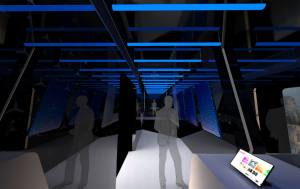 During events, the driver is responsible for keeping the trailer and vehicles in pristine condition. He highlights the sleek design of the trailer by mopping the trailer showroom floor in the mornings and evenings. Throughout the day, the driver wipes down the vehicles and charging stations after each test drive, providing a safe and clean environment for those visiting. He also makes sure the cars are charged and ready for each test drive. Additionally, the driver is responsible for the handicap ramp entrance to the trailer, needing to be ready to assemble and install it as needed. At the end of the day, the driver is responsible for consulting with on-site security to make sure the vehicles and trailer are protected for the night.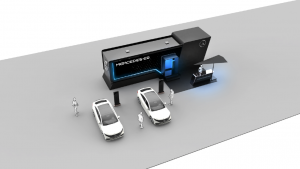 "These daily tasks and assistance offered by our drivers really highlights our "can-do" attitude. Our drivers do everything we ask of them and still find ways to go above and beyond for our customers," said Les. "Their ability to problem solve, adapt and then help with whatever is needed is invaluable. Corrigan Logistics drivers are just the best, hands down."
"The services we're providing on this Mercedes Benz project are really just the tip of the iceberg," said Les. "Corrigan Logistics can literally do anything. If a customer asks for it, we'll find a way to make it happen."
Similar to the Mercedes Benz tour, Corrigan Logistics is experienced and well respected in the Trade Show market. Having the expertise to transport and install large-scale, high-end exhibits and displays is a specialty for Corrigan Logistics. With a 100% on-time delivery guarantee and an on-site representative to coordinate all details, set up and tear down are expertly managed. The on-site representative will also have all the relevant details of each venue, ensuring a smooth process from start to finish.
In addition, your project manager can craft a completely customized plan for Trade Show Logistics. This service allows all materials to be shipped and handled as efficiently as possible, minimizing costs and unnecessary transportation and handling. Our Asset Management Software can be customized to fit your needs for monitoring and reporting your inventory. We also provide scheduled reports to advise the movement and management of your inventory, as well as tracking related expenses.
Every Corrigan Logistics project has a dedicated support team that assists the customer through every step of the project. Each project has special requirements, so the support team will vary depending on the needs of each client and project. Your Assigned Account Manager will evaluate your needs and build a custom team to handle every facet of your project. Support team members and services can include:
On-Site Project Managers to assist with coordinating all details during your event
After-hours emergency contact
Personal Project Coordinator to answer any questions and serve as a single point of contact
Online Tracking for product locations
Asset Management Software for Trade Show Logistics, including customized reports of your inventory
Exclusive use of van in our air-ride equipped trailers
Climate controlled transportation
Also experienced in international transportation solutions, Corrigan Logistics has the capability to safely handle precious cargo worldwide. Partnering with Corrigan International or Corrigan Air and Sea allows us to manage as much of your project as possible within the Corrigan family of companies. This collaboration allows for better communication, transparency, cost efficiency and trust with our customers. Truly a one-stop shop, the Corrigan family of companies is ready to assist with any of your needs!
Looking Forward
When discussing the project coming to a close, Les added, "Overall, this project has been a wonderful success for Mercedes Benz, Czarnowski Display Services and Corrigan Logistics. In a small way, Corrigan Logistics helped roll out the future of luxury electric vehicles. I'm very proud of our team for making this project as seamless as it has been. I'm also tremendously grateful for Fred and Peter Glore, who continually bring us the most exciting ventures. They know how to find new and interesting ways to really highlight our expertise. We're very fortunate to have them."
What's next for the Mercedes Benz trailer? Les eluded, "Keep an eye open during the Superbowl coverage!"
To find out how Corrigan Logistics can manage your next project, contact us!
*All renderings are property of Czarnowski Display Services