Corrigan Logistics has been busy with some incredible hotel projects! The theme of this Spring: delays and adaptability. While the world struggles with labor shortages and shipping delays, that also brought an opportunity for Corrigan's experts to work closer than ever with clients and partners to ensure projects can remain timely and efficient. With so many factors outside of our control, we focused on what we can control- our commitment to quality.
"These days, so much is out of our hands, it's really a matter of focusing on what's in our power," said Mike Steensma, Vice President of Hospitality Logistics. "The silver lining of facing a challenge is it gives you a chance to problem-solve and find creative solutions. Those are things we're really great at. It's all a matter of perspective. Other companies face these issues and crumble, but we rise to a challenge and find ways to succeed."
While Corrigan Logistics is headquartered in Michigan, we routinely service projects throughout the country. The below projects showcase some of our recent work and successes with adaptability and overcoming challenges tossed our way!
Soho House Nashville
AJ Development called on Corrigan Logistics once again to partner with the recent construction of the Soho House in Nashville, TN. From October 2021-January 2022, we supplied between 6-10 crew members for 6 days a week, dedicated to running a smooth operation. Some of the most notable features were the Olympic sized pool and rooftop bar. Because of Corrigan's involvement and expertise, the Soho brand asked Corrigan for additional involvement at the completion of the main project. We furnished a crew of 3-4 individuals for a month to provide White Glove Service to move furniture and assist the interior designers. Over 2,000 accessory items were added, in a service known as "Identification of the Building". This is the final process of a construction project, where the last details and accessories are added to complete the final aesthetic and vision of the interior designers. We spent these final 4 weeks picking up items from antique shops and various stores, then placing or installing these final pieces. We also provided transportation for items being returned to various vendors across the globe.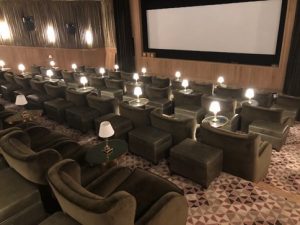 Soho Nashville Movie Theater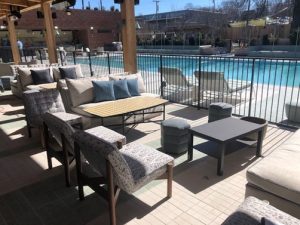 Soho Nashville Pool Area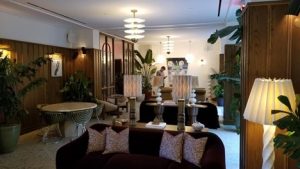 Soho Nashville Club Bar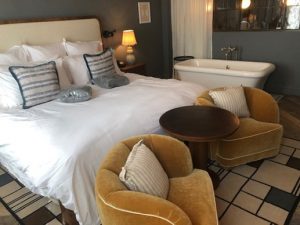 Soho Nashville Guest Room
Soho House West Hollywood
Because of the excellent service and adaptability Corrigan provided in Nashville, ownership of the Soho House brand reached out and requested a quote for their upcoming project in West Hollywood, CA. The project was scheduled to begin just 3 weeks later, so time was of the essence to compile a comprehensive estimate and secure a team dedicated to this project. Because of permitting delays, much of the work being performed by our crews was unable to start.
The decision was made to keep a crew of 4 on-site, so tasks could begin the second the permits were approved. While waiting, the Corrigan Logistics crew did everything they could to help the project along, even beyond our traditional scope of services. For nearly a month, our crew helped by painting rooms and installing bathroom accessories. Since some areas of the hotel were open and operable, a Grammy Awards After Party was being planned.
"We will do everything we can to help our clients. For the Grammy's After Party, our crew assisted the caterer of this event by unloading their truck and equipment," remembered Steensma. "We'll help problem solve anything that's within our ability. That was definitely a unique day of work for our crew!"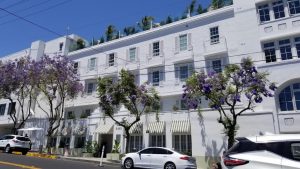 Soho West Hollywood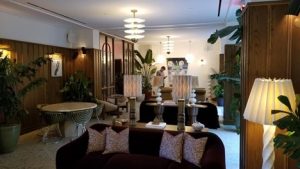 Soho West Hollywood Lobby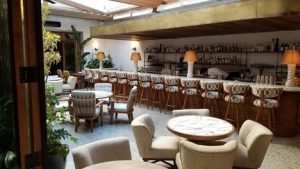 Soho West Hollywood Lobby Soho West Hollywood Bar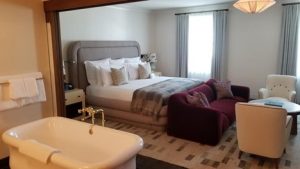 Soho West Hollywood Guest Room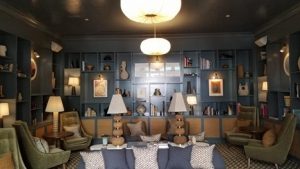 Soho West Hollywood Lounge and Library
Embassy Suites Myrtle Beach
We recently completed a 255 room remodel of the Embassy Suites in Myrtle Beach, SC. Our services included moving out the old furniture, warehousing new furniture as it arrived, and systematically delivering those new pieces into the hotel. However, this was far from a straightforward project!
The shipment of new furniture was delayed 3 months due to international shipping and labor challenges. On top of these delays, the hotel was booked to capacity. Due to this, we had to get creative.
"A plan was made to handle 5 rooms a day, working one floor at a time. We would move old furniture around to fill the rooms until the new furniture arrived. By shuffling the furniture from room to room, working carefully alongside hotel guests, the project was able to be completed without further delays or issues," said Steensma. "Our crews are always credentialed and in uniform, they did a terrific job of not bothering guests and making them feel comfortable with our team working nearby."
This summer, the pool area and outdoor spaces are scheduled to be remodeled. Corrigan will be receiving and installing approximately 600 chairs, loungers and outdoor cabanas.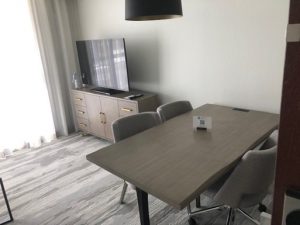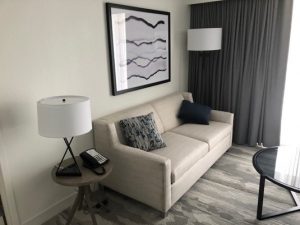 Embassy Suites Guest Room
Home2 Suites Byron Center
Closer to home for Mike Steensma, who is a lifetime resident of the Grand Rapids, MI area, his team just completed a 104 room new hotel build. Like so many other projects, shipping and installation delays unrelated to Corrigan proved to be challenging. With the elevator not yet installed, Corrigan chose to deliver necessary items using a lift and the assistance of the on-site construction crew, delivering through the windows.
Each room features a "working wall", which includes a full kitchenette and cabinet storage. These walls consist of 35 individual pieces that Corrigan builds and installs inside of each room. A team of 6-8 crew members were on-site daily between February-March, 2022. Phase 2 of this project is scheduled to complete around July 4th, 2022 and is currently moving along at completing 8 rooms a day!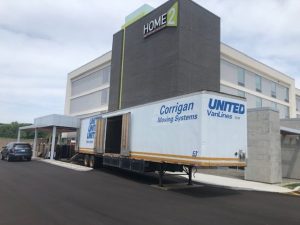 Home2 Suites Exterior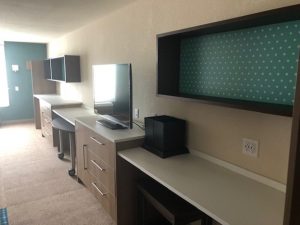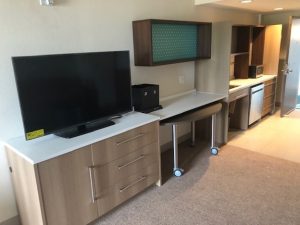 Home2 Suites "Working Wall"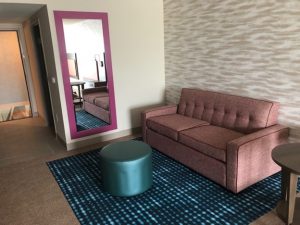 Home2 Suites Guest Suite
"We've had some really nice, smooth projects recently. Even when things don't go according to plan, our crews don't get rattled. They just immediately try to find solutions. We have the best crews who are always going above and beyond for our customers. We're dedicated to finding the best possible outcome from every situation, which many companies just can't do. We have so many repeat customers because we continue to prove this to our customers. As more challenges arise globally, our customers know that Corrigan can navigate whatever is thrown at us," said Steensma.